PRESS RELEASE NO. 02-2023
RIZAL DAY PAINTING CLASS WITH FILIPINO-AMERICAN ARTIST GERALDINE MARTINEZ-BENZ


Consul Ryan Pondoc (standing, fifth from left) and Ms. Geraldine Martinez-Benz (standing, fourth from left) pose for
a group photo with the students of the Rizal Day painting class held at the Philippine Consulate General in Chicago.



Chicago, 03 January 2023 – As part of its commemoration of the 126th Rizal Day, the Philippine Consulate General in Chicago organized its third painting class on 30 December 2022 featuring Ms. Geraldine Martinez-Benz, a Filipino-American artist based in Evanston, Illinois.
Ms. Benz is originally from Ormoc City, Leyte. She graduated from the University of the Philippines in Cebu with a Bachelor of Fine Arts degree major in Painting. She has had art exhibits in Leyte and Illinois and has worked as a graphic designer in Manila, Cebu, Shenzhen, and Chicago. In 2021, she and her fellow artists formed a group called SINAG to connect the Filipino-American artist community in Greater Chicago.

The painting class was designed to introduce Philippine art and history to young people, particularly the second-generation Filipino-Americans, in a fun and interactive way. The class was a well-attended event with thirteen (13) students learning how to paint using acrylic on canvas, similar to the previous classes held last February and June.
Under the expert guidance of Ms. Benz, the students painted the Rizal Monument in Luneta and the Philippine flag. After the painting class, Consul Ryan Pondoc gave a brief lesson on Dr. Jose Rizal and encouraged them to visit the Rizal Monument located at Margate Park, Chicago. Through this activity, the students learned about a national hero and his role in Philippine history

To end the event, the students and their parents partook of snacks from Jollibee, a Philippine fast-food company with several stores in Chicagoland. Likewise, Ms. Erma Cuenca-Price, a Filipino pastry chef and owner of Tropicake Chicago, provided Filipino pastries for the students.END.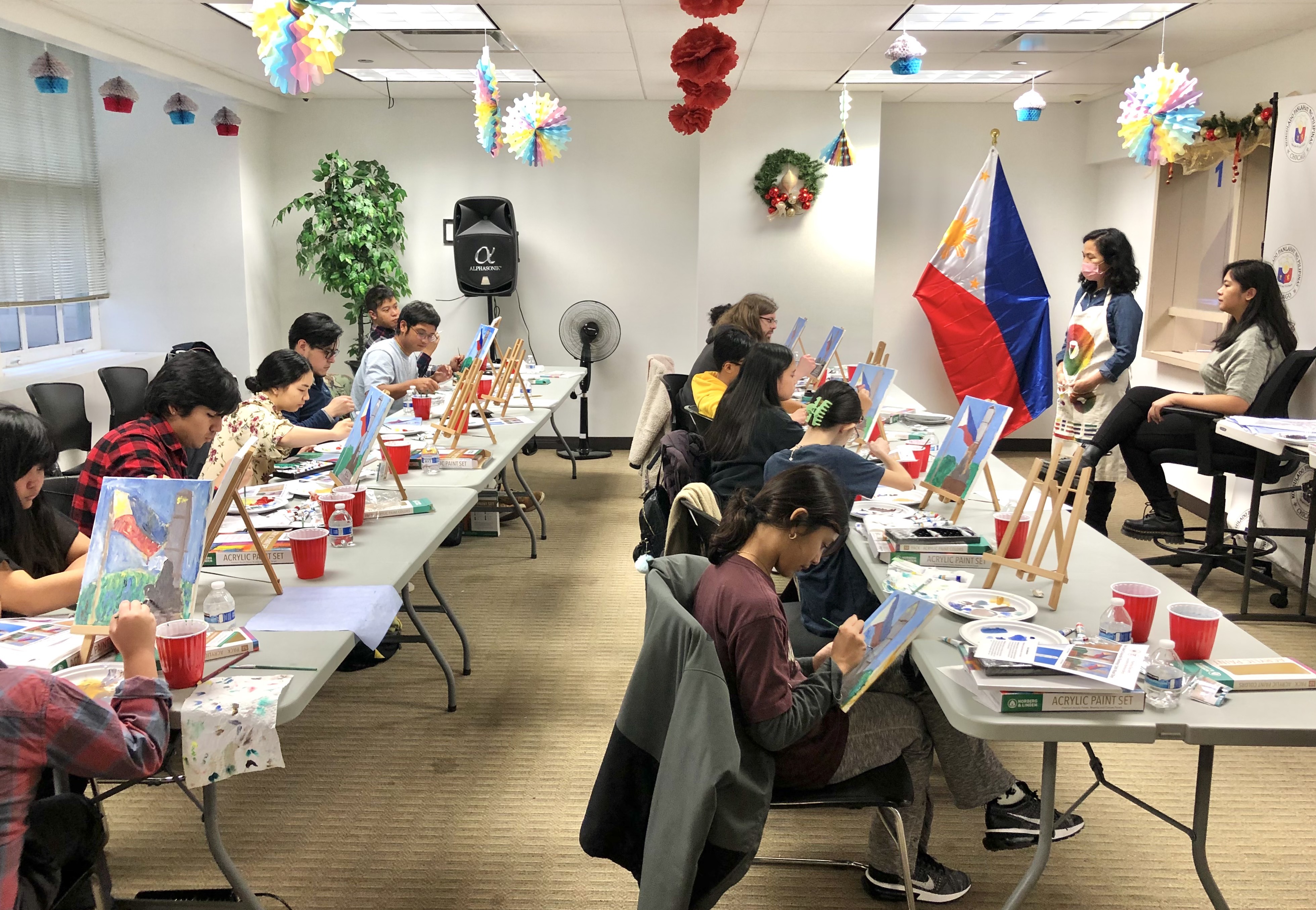 Ms. Benz (standing) supervises the participating students.